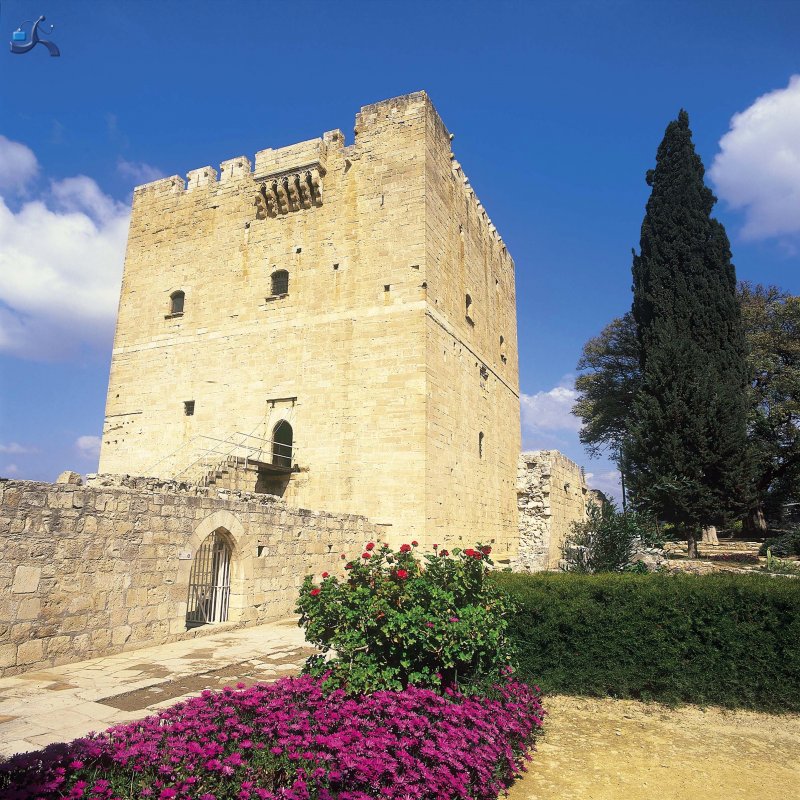 Kolossi Castle is situated in the village of Kolossi, 11 kilometres west of Lemesos (Limassol). It was built in the 15th century on the ruins of a former fortress dated to the beginning of the 13th century. Some of these ruins can still be seen east of the present castle. The castle belonged to the Knights of Saint John of Jerusalem and was the seat of the most important of the Commanderies that belonged to them. For a few years in the 14th century, it came under the control of the Knights Templar.
The castle itself is a 21 metres high square tower with three floors. The ground floor is divided into three parts and was probably used as storeroom. In the middle of the east side is a stone stairway leading first to the second floor, where the kitchen was probably located, and then to the third floor. The third floor was divided into two big halls and was the 'house' of the Commander. To the south of the castle there is a courtyard enclosed by walls and the ruins of an auxiliary building, probably a stable or a storehouse. On the southwest corner of that building there was an entrance, protected by a circular tower. Sugarcane refinery installations have been located to the east of the castle.
The area also produced and exported the traditional sweet wine of Cyprus, which became known as the "Vin de Commanderie" or Commandaria. Commandaria is now one of the oldest named wines in the world, having had the same name for eight centuries.
Related Listing
The "Tombs of the Kings" are situated close to the sea in the north western necropolis of ...

The Monastery of Kykkos, the richest and most lavish of the monasteries of Cyprus, is found in the ...