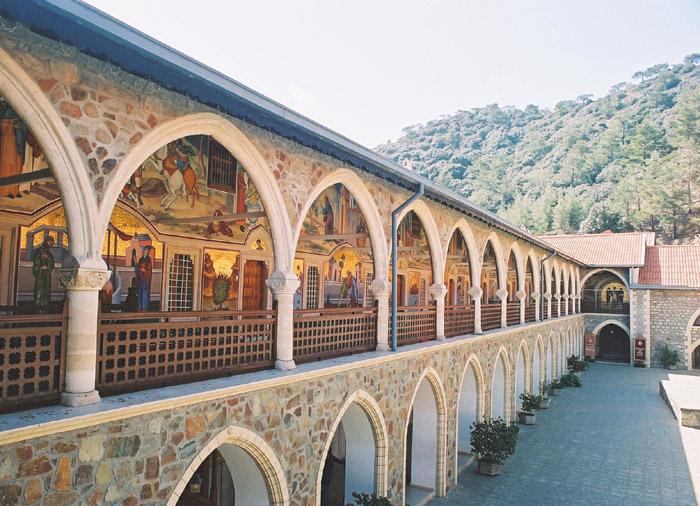 The Monastery of Kykkos, the richest and most lavish of the monasteries of Cyprus, is found in the region of Marathasa. It is situated on a mountain peak, at an altitude of 1318 metres northwest of Troodos. Dedicated to Panagia, it possesses one of three icons attributed to Agios Loukas the Evangelist. The icon, covered in silver gilt, is in a shrine made of tortoise shell and mother – of – pearl that stands in front of the iconostasis.
The monastery was founded sometime between the end of the 11th century and the beginning of the12th century, during the reign of Emperor Alexios I Komnenos (1081-1118 AD). Unfortunately the monastery burned down several times and nothing remains of the original structure. Blessed with divine grace, Cypriot hermit Isaiah miraculously cured the emperor's daughter of an incurable illness. As a reward, he asked for the icon of the Theotokos (Virgin Mary) kept at the imperial palace at Constantinople. Though grieved at the prospect of losing his precious treasure, the emperor sent it to Cyprus with fitting honours together with funds to pay for the construction of a monastery where the sacred relic would be kept. At the hermit's request, the emperor's representative in Cyprus Manuel Vutomites also endowed the monastery with three villages. As the gift was later confirmed by imperial charter, the monastery is considered to have been established by imperial decree.
The first President of the Republic of Cyprus, Archbishop Makarios III, served here as a novice. At his own wish he was buried on the summit of Throni, 3 kilometres west of the monastery, and not far from his native village of Panayia. The monastery produces zivania and a variety of other alcoholic drinks and holds religious fairs on September 8th (Birth of the Virgin) and August 15th (Dormition of the Virgin).
Related Listing
The "Tombs of the Kings" are situated close to the sea in the north western necropolis of ...

Kolossi Castle is situated in the village of Kolossi, 11 kilometres west of Lemesos (Limassol). It ...